Welcome to our 29th edition of Velasco Chronicle & Buzz.
The month of December brings many holidays, feasts, and happenings! December also often marks the beginning of rain, snow, and cold weather. In the United States the month of December is associated with Christmas but also known around the world as a family time of celebration honoring cultures, religions, and traditions that have been with humanity for hundreds of years. There are also Christmas decorations, sales, musicals, and holiday parties. Many people spend their time Christmas shopping, preparing for the holidays, and spending quality time with family. From St. Nicholas Day to the Geminid Meteor Shower to Christmas, it's a busy month of the year. Not to mention preparing for the New Year ahead and setting goals for 2022, reviewing your year and making a New Year's Resolution. Just remember to grab a cup of cocoa and relax when you can.
Christmas is an annual festival commemorating the birth of Jesus Christ, observed primarily on December 25 as a religious and cultural celebration among billions of people around the world. Christmas is also the time to get together and remind ourselves how lucky we are to have friends and family who love us. We may not see our friends and family very often, but at Christmas, they will always be there, enjoying a delicious meal and exchanging presents.
The Geminids are a meteor shower that occurs in December every year. The best night to see the shower is December 13 into the early hours of December 14. This year the peak night for the Geminid Meteor Shower is set to be drowned-out somewhat by a waxing gibbous Moon. However, despite less-than-ideal conditions, at least some of the 150 multicolored "shooting stars" each hour should get through between late evening and dawn on December 13-14, 2021.
The New Year and 365 days of new beginnings are on the horizon. 2022 is in sight and is going to be a big year. As you get ready to deck the halls and ring in the holiday festiveness, there is so much end of year excitement in the air. Preparing and planning for a successful and prosperous New Year will take some planning on your part to keep you motivated throughout the year.
"Planning is bringing the the future into the present so that you can do something about it now." -
Alan Lakein
What's Happening
Around the
Bay Area and Beyond,
Let's Explore!
Go into the holiday season determined and dedicated. Make a promise to yourself that you are going to stick to your holiday health plan and find ways to help keep you motivated to workout. We have included some healthy habits to try in the month of December and awesome indoor workouts during the cold winter days!
December Health Tip

31 Healthy Habits to Try Each Day of December

December. It can be such a complicated month of fitting in all the things we want to do as well as all the things we need to do. When time is tight, the first thing to go is usually taking care of our health and ourselves. This month, keep it simple by doing something healthy every day. Do each activity once, or add a new one on each day so they become cumulative. You get to decide how much you have time for.
20 Awesome Indoor Workouts to Try Before Winter's Over

Oh, the seasonal blahs. Yes, it's true. Winter still isn't over. There's no daylight when your alarm clock goes off, you've logged more miles than you'd like to count on the dreadmill, and — duh — it's really cold out there.

It's no surprise that any motivation to get outdoors and work up a sweat has gone the way of the groundhog and buried itself until spring. But don't let the season be an excuse to stray from those resolutions and lose your workout mojo.

We've rounded up our favorite calorie-busting workouts that can be done indoors to get through these final weeks of winter. And who knows — you might even find a workout you'll want to do all year long.
11 Essential Cocktails for Your December Parties

The last month of the year deserves something special. And when everything is decorated with glittering lights and fueled with the hope of a new year around the corner, why wouldn't you want your cocktails to match the atmosphere? We have all the cocktails you'll need for your December parties, from a warming Irish Coffee to a frothy and festive Winter Sour. No matter what you choose from these picks, just know you'll be drinking your way to the new year in style.
The BEST Beef Stroganoff

For those days when you're craving a cozy and comforting bowl of beef and noodles…

…this classic beef stroganoff recipe is here for you.

It's made with a quick sauté of tender steak (or you can opt for ground beef) and a perfectly-browned mushrooms, and tossed with the richest, savory, garlicky cream sauce (that I've lightened up a bit and made without heavy cream). And when served warm over a big bowl of noodles, rice or polenta, get ready for a delicious burst of nostalgia. Because this retro recipe is total comfort food and always so satisfying and delicious.
San Francisco Ballet Presents

The Nutcracker

Step into the reverie of little Clara in this unforgettable holiday tale and enter a magical wonderland of toy soldiers, a blizzard of snowflakes, and a kaleidoscope of more than 150 dancers. Battle the King of Mice and of course, dance through the land of the Sugar Plum Fairy.

Helgi Tomasson's dazzling San Francisco-inspired production is accompanied by a brilliant live orchestra performing Tchaikovsky's beloved score.

Share unforgettable moments and everlasting memories with loved ones during this very special holiday time and tradition.
Christmas in San Francisco: Things to Do this Season Plus Christmas Eve & Day in 2021


Christmas in San Francisco is a magical time. The air is crisp, but warm enough to walk around and explore this beautiful city. I also love this time of year as the city is full of gorgeous holiday lights.

You will find quite a few things to do this holiday season from theater performances to shopping in Union Square or Pier 39. Throughout the season, you can also see Christmas shows including the SF Ballet's Nutcracker and A Christmas Carol. This

insider's guide covers ideas throughout the holiday season as well as dedicated sections for both Christmas Eve and Christmas Day.
Fantasy of Lights, Los Gatos CA

First presented in 1999, Fantasy of Lights is a spectacular 1.5 mile Drive-Thru extravaganza of holiday lights and displays for the entire family. It is now in its 23rd year and has become a cherished holiday tradition. It is bigger, better and brighter than ever before thanks to the transition to environmentally friendly LED displays.
Bay Area remains the priciest market in U.S. to buy a house
78% of US markets hit with double-digit home price increases
From the desk of
Patrick Carlisle, Chief Market Analyst
Compass Bay Area Market Reports
*Reports updated every 15th of the month, please check back for updated reports
27447 Edgerton Road, Los Altos Hills
Offered at $9,999,888 (not on MLS)
This BRAND NEW modern luxury home is off MLS but still available for showings and will be back on MLS 1/7/2022, Auction date will be the last week of January 2022, final date TBD. It will re-list at a new list price of $9,999,888. It will be offered at a Luxury Real Estate Auction with a minimum reserve (TBD) at the time of auction.
We will be holding mega 4 day open house prior to auction for consecutive days.
New Construction | Built 2021
6 Bedrooms | 9 Baths | 8,653 SF Living | 67,712 SF Lot | 4 Car Garage
A modern masterpiece set in the Los Altos Hills, this sprawling, 8,653-square foot estate affords uninhibited Bay views that bleed seamlessly into the San Francisco skyline. Set on nearly 1.5 acres of lush greenery the six-bedroom, nine-bathroom residence adopts a minimalist aesthetic and boasts unmatched attention to detail.
More Details | http://www.27447edgertonroad.com
505 E McKinley Ave, Sunnyvale
Offered at $2,599,888 (transparent pricing, not on MLS)
4 Bedrooms | 3 Baths | 1,634 SF | 3,980 SF Lot | 400 SF 2 Car Garage | 2 Story
New Construction, Built in 2021
More Details | http://www.505emckinleyavenue.com
Offered at $2,299,888
This is Vacant Land with Approved Plans to build a
Two Story Modern French Chateau.
5 Bedrooms, 5 Bathrooms | 6,695 SQ FT Living | 27,902 SQ FT LOT |
3 Car Garage - 1,062 SQ FT with Golf Cart Parking
Gym
Pool with a 300 SQ FT Pool House
Covered Porch Area - 1,110 SQ FT
Covered Patio with Outdoor Kitchen
First Floor - 3,837 SQ FT includes Family Room, Office, Wine Cellar, Butler's Pantry, Second Pantry, Breakfast Nook, Mudroom
Second Floor - 2,558 SQ FT includes Master Bedroom with Walk In Closet and Outdoor Patio, Game Station/Pool Room, Playroom, Movie Theater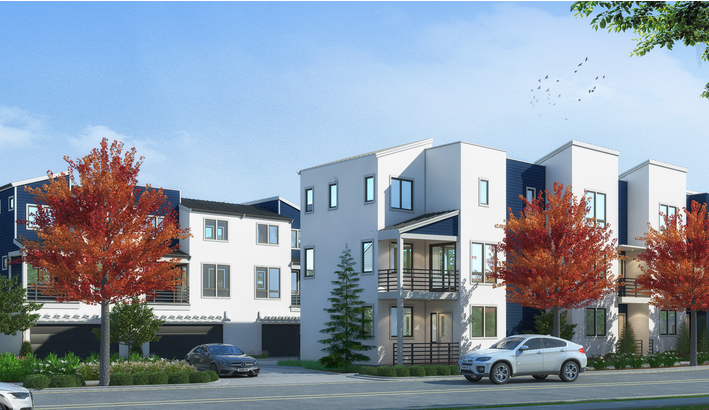 4170 Central Avenue, Fremont CA
Offered at $3,500,000 (not on MLS)
10 Units (Townhomes) in Fremont will be available with four different plans available. Each of the units will be roughly 1800 square feet with a two car attached garage as well as 4 bedrooms & 3 bathrooms.
Builder/Developer: Livio
More Details | http://www.4170centralavenue.com
955 Woodside Road, Redwood City
Offered at $4,500,000 (not on MLS)
Great Development Opportunity in Redwood City.
Tentative Map Approved for 8 unit development (condos/townhomes). Developer is Terra Holdings, and listing price is for LAND and APPROVED BUILDING PLANS
Developer: Terra Holdings.
More Details | http://www.955woodsideroad.com
New Construction & Coming Soon
JVHome is developing this ultra-modern home near Facebook Menlo Park.
5 Bedrooms | 5 Baths | 3,597 SF Living | 8,000 SF Lot | ADU attached
Bonus room + Office |
Outdoor Pavillon
Current Status: Under review with planning department with the City of Menlo Park and waiting for City review & feedback.
Coming Soon in Fall of 2022
San Francisco Area's New Launches:
Home Buyers and Developers Are Looking Beyond the City
Rebounding interest in residential developments points to robust sales for 2022
A Message from Joe Velasco and JVG
Dear Clients, Friends, Family and Colleagues
We thank you for your support, referrals, and business this past year.
We had the privilege to represent 124 families this year with a record breaking volume of $201M and estimated volume to be over $220M by the end of 2021.
We are looking forward to what 2022 will bring and we wish you all the best this Holiday season!
Schedule your personal video conferencing web call with Joe Velasco via ZOOM

Ask any questions from the comfort of your home during the 'shelter in place' ordinances.
© Compass 2021 ¦ All Rights Reserved by Compass ¦ Made in NYC
Compass is a real estate broker licensed by the State of California operating under multiple entities. License Numbers 01991628, 1527235, 1527365, 1356742, 1443761, 1997075, 1935359, 1961027, 1842987, 1869607, 1866771, 1527205, 1079009, 1272467. All material presented herein is intended for informational purposes only and is compiled from sources deemed reliable but has not been verified. Changes in price, condition, sale or withdrawal may be made without notice. No statement is made as to accuracy of any description. All measurements and square footage are approximate. Equal Housing Opportunity.