Velasco Chronicle & Buzz
January 2020
Welcome to our 6th edition of Velasco Chronicle and Buzz. We want to wish you and your family a Happy New Year and hope this past Christmas was extra special! Did you know according to Chinese zodiac signs, that next year 2020 is the year of The Metal Rat? Which means it is going to be a strong, prosperous, and lucky year for almost all Chinese zodiac signs. Everyone will show determination regarding their goals, aspirations, and even their hobbies. This is a great year for founding and evolving. Those who plan to buy real estate, to start a business or to invest money in a long-term project have great chances of being satisfied in the future. But, beware! This type of initiatives will only be successful if they are carefully planned.
We are thankful for your business, your friendship and our continued relationship. We talked about being thankful on our last edition, and this year Joe Velasco Group, has so much to be thankful for! We grew from a team of 3 to 7, and will be adding additional staff in 2020. We sold 60 homes for $88,100,552. We gave back through Compass Cares.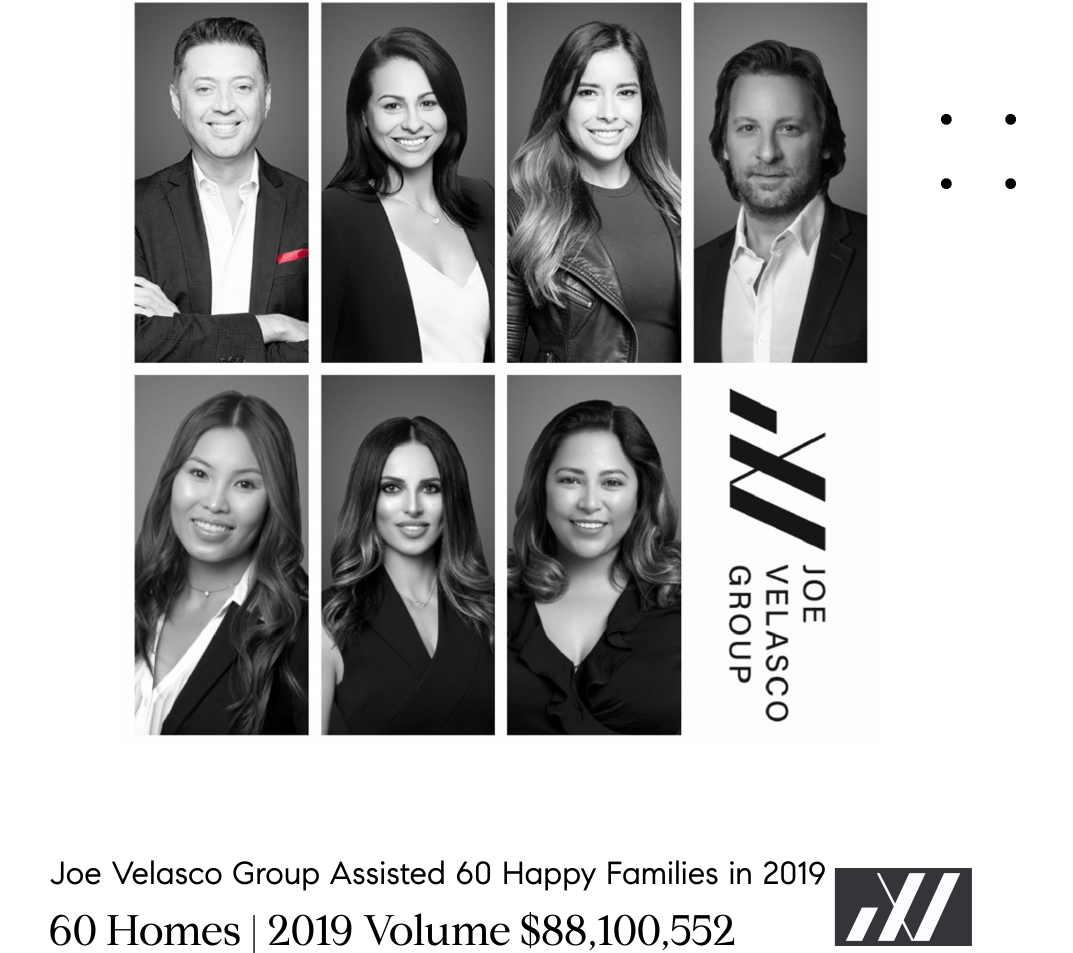 We had a lot of fun in 2019 selling homes, serving our community. With January around the corner, perhaps you thinking of your New Year's resolutions. If you're like most, it's about losing weight, running a marathon, giving back, spending more time with family, whatever it is, it's great to have goals and be inspired! We would love to hear about it. Simply reply to this email, and you're already off to a great start by writing it down.
As always here a few recommendations for San Mateo, Santa Clara and San Francisco County from Velasco Group Chronicle and Buzz. Be up to date with Compass Market Reports from Patrick Carlisle, Compass Chief Market Analyst. Check out our Coming Soon Listings with first weekend open house dates and/or Twilight Tour dates and last but not least Unique Home Sale and Video of the Week. We hope the events we share are to your interest, and find the market trends reports insightful. We look forward to seeing you at a future Open House or Twilight Tour.
What's Happening
Around the Bay Area
Full Moon Hike to Twin Peaks (SF)

Friday, 01/10, 2020 at 6:30 PM – 9:30 PM

You live in California, so you must love hiking & drinking ;)

Full Moon Hike to Twin Peak Hike, Sunset, Full Moon, Food & Drinks... What else?

Enjoy a breathtaking sunset and a wonderful moon-rise, then we will head down to an Italian Restaurant.



Wednesday, 01/01/20 at 4 AM – 9 PM

On New Years Day 2020 The Great Northern and Space Cowboys are back with SF's biggest block party…..It's A New Day x Breakfast of Champions. Featuring over 70 Dj's from across the world, 7+ full stages, amazing food vendors, clothing vendors, interactive art and lots of fun surprises!
Family Movie: The Addams Family

Saturday, 01/04/20 at

2 PM – 4 PM

Enjoy this quirky tale of an unconventional family trying to fit in with their community as well as their own distant relatives. Feel free to bring snacks, blankets, and pillows.
Saturday, 01/11/20 at 1 PM – 4 PM

Join Judy Shintani, Triton Museum of Art, offers a lantern-making workshop focused around celebration and remembrance of loved ones. Participants may want to honor ancestors, friends, or even pets.
Saturday, 01/18/20 at 10:30 AM – 1:30 PM

🐚Seashore Tide Pools and Marine Treasure Hike🐚

This only happens a few months of the year-

when the tides are low enough to explore the beaches, tidepools and other fascinating under-the-sea creatures.

We have a group of sought-after permits that takes us to the beaches of San Mateo where we will be lead by an expert marine biologist who will take us around to the pools so we can observe the starfish and sea urchins, scope out the coral and octopus and may even see the seals!
Tuesday, 01/07/20 at 5 PM – 8 PM

WeMeet Burlingame is one of the best ways to get out and meet new people in your area. WeMeet is on a mission to bring social back to networking. We aim to bring people together to meet face-to-face through monthly networking & social mixer events.
Real Estate Market Reports
3468 Copper Place, Santa Clara
NUEVO by Summerhill Homes
$2,398,000
4 BD | 4.5 BA | 2,990 SF | 2,229 SF Lot
Luxury New Detached Single Family Residence
nestled within a vibrant community that merges residences, restaurants, and retail.
Saturday | 2 - 5 PM
Santo Domingo Terrace, Sunnyvale
New Construction Luxury
Sunnyvale Condominiums development with a townhouse feel.
Four floor plans
each with its unique layout and possible upgrades.
Condos in the Range of
3/4 Bedrooms | 2.5 Baths |
1,500 - 1,850 SF
2 Car Side-by-Side Garage
New Listings
Coming Soon 2020
154 Linfield Drive, Menlo Park
California Craftsman in desirable Linfield Oaks, built in 2008 as a "model" home with over $100K of custom upgrades. Open floor plan with living/dining room flowing to a stunning gourmet kitchen with granite slabs and top of the line appliances. Master bedroom suite with marble finished bath. Private upper level 4th bedroom suite ideal for guest, office or play room. Menlo Park Schools. Community features playground and community gathering place.
Bella Estates | Summer 2020
Three Luxury Modern Homes in Los Gatos
$3,398,000
5 Beds, 5.5 Baths | 3,398 SF
12,886 SF Lot | 3 Car Garage
5 Beds, 4.5 Baths | 3,368 SF
11,351 SF Lot | 3 Car Garage
5 Beds, 4.5 Baths | 3,368 SF
11,353 SF Lot | 3 Car Garage
High Town | Summer 2020
10 New Luxury Town Homes in Fremont
Ranging from
2 - 3 Bedrooms | 2.5 - 3.5 Baths | 2,170 Max SF
for exclusive upcoming updates on all our
coming soon listings, because we have more
A Record Number of Homes Closed for

$100 Million-Plus This Year
Six deals topped $100 million in 2019, despite a general slowdown across the U.S. luxury real-estate market. Here is a look at the top-10 home sales
© Compass 2020 ¦ All Rights Reserved by Compass ¦ Made in NYC
Compass is a real estate broker licensed by the State of California operating under multiple entities. License Numbers 01991628, 1527235, 1527365, 1356742, 1443761, 1997075, 1935359, 1961027, 1842987, 1869607, 1866771, 1527205, 1079009, 1272467. All material presented herein is intended for informational purposes only and is compiled from sources deemed reliable but has not been verified. Changes in price, condition, sale or withdrawal may be made without notice. No statement is made as to accuracy of any description. All measurements and square footage are approximate. Equal Housing Opportunity.